One of Those Days
Yesterday (June 27), after work I excitedly packed up the car in anticipation of a nice evening of fly fishing. Being able to slip away early today (which is a rarity) made me even more gleeful of the outing ahead (Gleeful in a child's-anticipation-of-Christmas-morning kind of way - a feeling I often get before fishing for some reason). I was to meet up with Dave, a good fishing friend of mine.
As I proceeded down the long road to the river, the sunlight began to dissipate, the sky darkened, and the cotton-ball white clouds became charcoal. Rain of the torrential type soon followed - the silly grin I wore lead way to anger and some profanity. But nothing was going to stop me from wetting my line, and I continued down the long road. Persistance paid off as it was just a passing storm, and the sunlight and cotton-ball clouds began to reappear.
Dave had done some pre-fishing before I arrived, and was now waiting at the access point. He was waterlogged but still high in spirits. We exchanged a few words and a few laughs and proceeded down to the river.
As expected the river was slightly up and slightly stained, but still very fishable. Surprisingly, there were other fisherman where we would rarely see another soul so we continued past them. Stopping at a shallow riffle, Dave immediately had a take and toggled with a small Brown. We stopped by to see
Pat
, but unfortunately, it wasn't in the mood for hospitality and that did not change for the rest of the evening.
Further downstream is a pool that has been good to me, and I was telling Dave about my past experience with it. The pool was made for trout, but was certainly not made for fishing and I have lost many hours of hand tied flies in its depths. It is strewn with 2 fallen trees, bush and debris and I imagine most fishermen just walk right past it.
Dave got the first drift and was once again in a one sided tug of war with a small Brown. I drifted in after him, and found myself in a battle that would bring my blood to the flow of a river after a heavy rain. The Brown Trout used every obstacle in its home to my disadvantage and fought with such ferocity that I was sure it would soon end with tears shed on the bank. I tried not to put on too much pressure, as I ascribe to the theory that it's best to tire a fish slowly in tight, snaggy quarters. After some great runs in attempts to get back home, this feisty brown took a moment to greet us streamside for a picture. It was not a 20 incher, but it sure had the heart of one.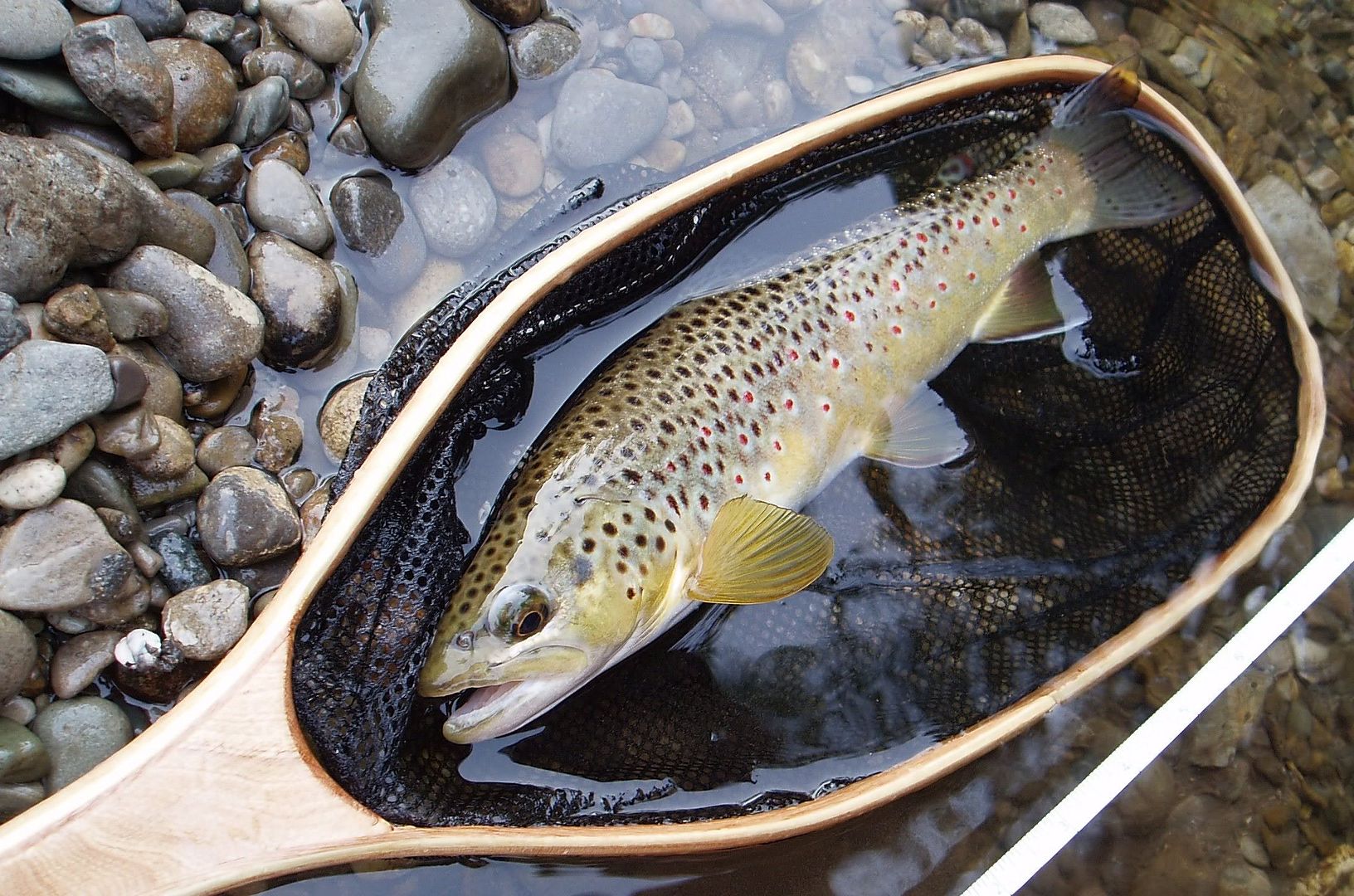 Dave would proceed to land one of similar size in the same pool and another further downstream. Both of us played with a smaller Brown or two along the way.
Satisfied with what the river offered up to us this day, I paused to look around at my surroundings and soak in the moment. The sun was beginning to set behind the layers of cedars and maples, through hues of pink and red sky and a white mist formed over the river and stayed there, as if to protect it from the darkness of night.
It was one of those days where I'm reminded why I spend so much thought, energy, and time in pursuit of not just the fish, but of the whole experience that fishing provides.